The orders that shipping labels were created for are displayed in order of the latest one on the top. The shipping record which includes PDF data of issued shipping labels is retained for 60 days, with the exception of Yamato. Yamato only allows for users to print a label once and the PDF label data can only be saved for one hour.
You can check (display/save/print) issued shipping labels and international invoices, as well as domestic statements of delivery from this page.
When you click on the

tracking number

, the page will move to the delivery status confirmation page of each shipping company.

Search function:

you can search by tracking number, or order number. Full complete numbers including any symbols are required to search.

Filter Function

: you can narrow down and output CSV order data by specifying shipping carriers, shops, or shipped dates.




For orders created manually clicking "Create order" or "Import CSV", you can narrow down the orders by "Custom orders".

Cancel function

: From the list you can cancel (void) issued shipping labels. Please see here for more information about canceling shipments.

Status

function

: The status function on the dashboard allows you to see the status of your shipments at a glance. Since the update is not real-time, you might not see the latest status here. Also, please do note that we only support the tracking status display for the following shipping services for now:
- JP Post International (services that have tracking)
- JP Post Yu-pack
- Yamato Transport
- Ninja Van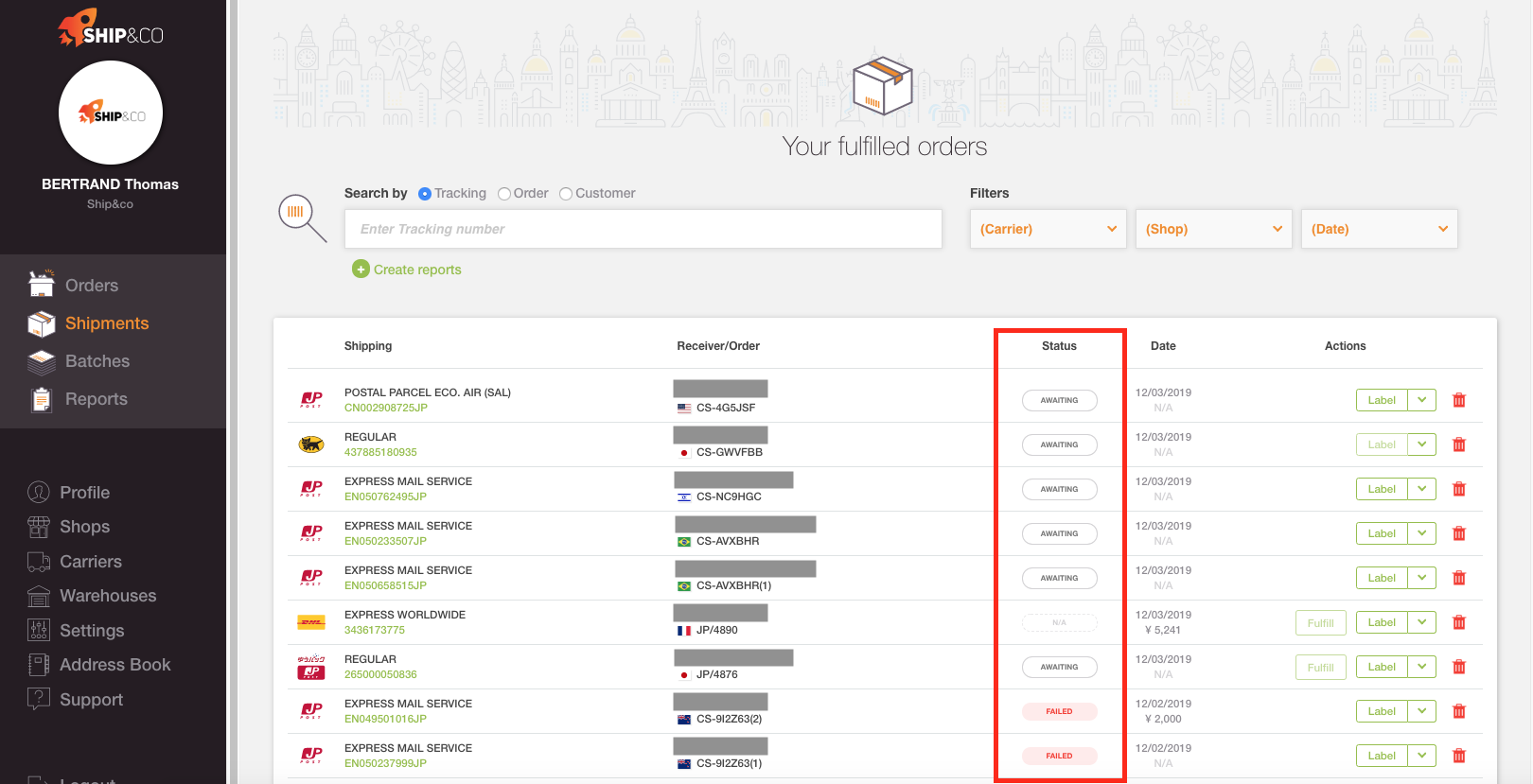 Orders can be fulfilled either automatically or manually.
Automatic: If the checkbox "Automatically fulfill order" in your shop settings is selected, the order status will automatically be updated in your online store immediately after the shipping label has been generated. The screenshot below uses a Shopify store as an example.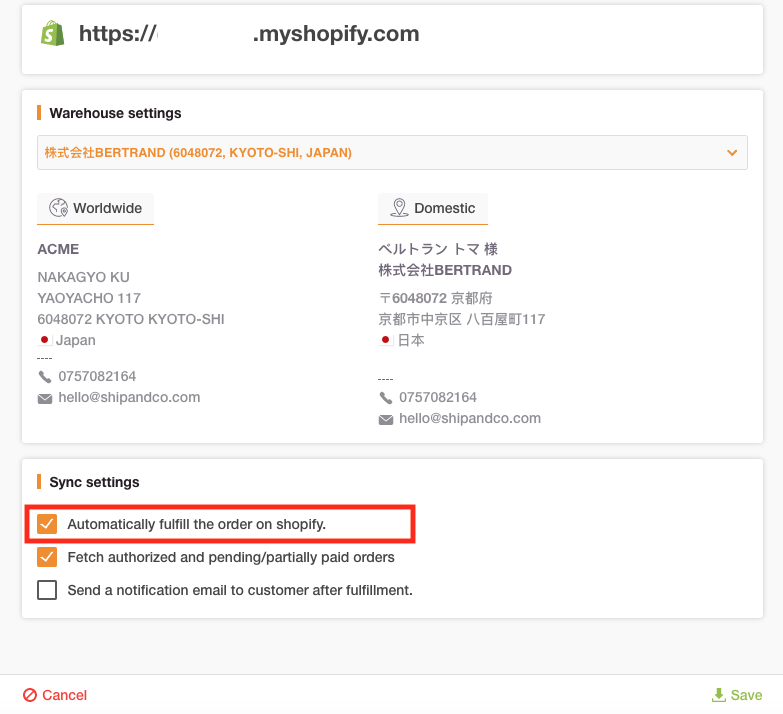 In this case, the "Fulfill" icon on your dashboard will be also be disabled. Mousing over the icon will display a pop up message stating that the status has already been updated in your online store.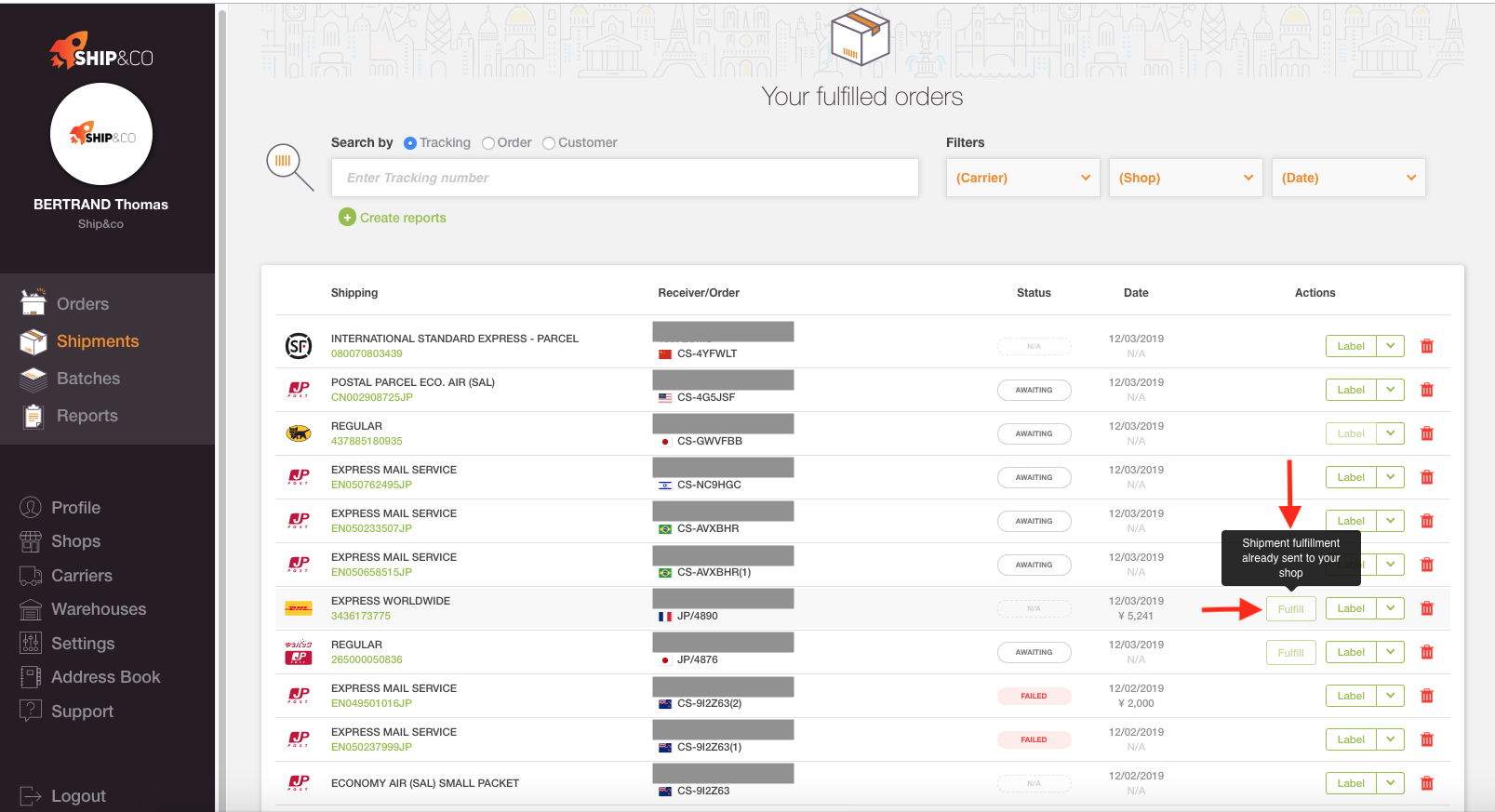 Manual: If the checkbox to automatically fulfill orders is not ticked, the "fulfill" button will remain active and you can manually mark your order as fulfilled on your store by clicking on it, at your own timing.