With Ship&co, you can easily add your DHL account to manage both domestic and international shipments (where available). By doing so, you can create shipping labels using your own DHL discounted contract and ship your ecommerce orders faster.
Note: In order to set up DHL Express in Ship&co, you must have Site ID (API Key) and Password (API Secret) ready. You can obtain it by following these steps. Please copy & paste the information when setting up your DHL Express account in Ship&co.

API Key → ① Site ID
API Secret → ② Password

Account Number → ③ Your 9-digit DHL account number
Connect your DHL Express account on Ship&co
Just follow the steps and you'll be ready to start shipping with DHL Express in no time.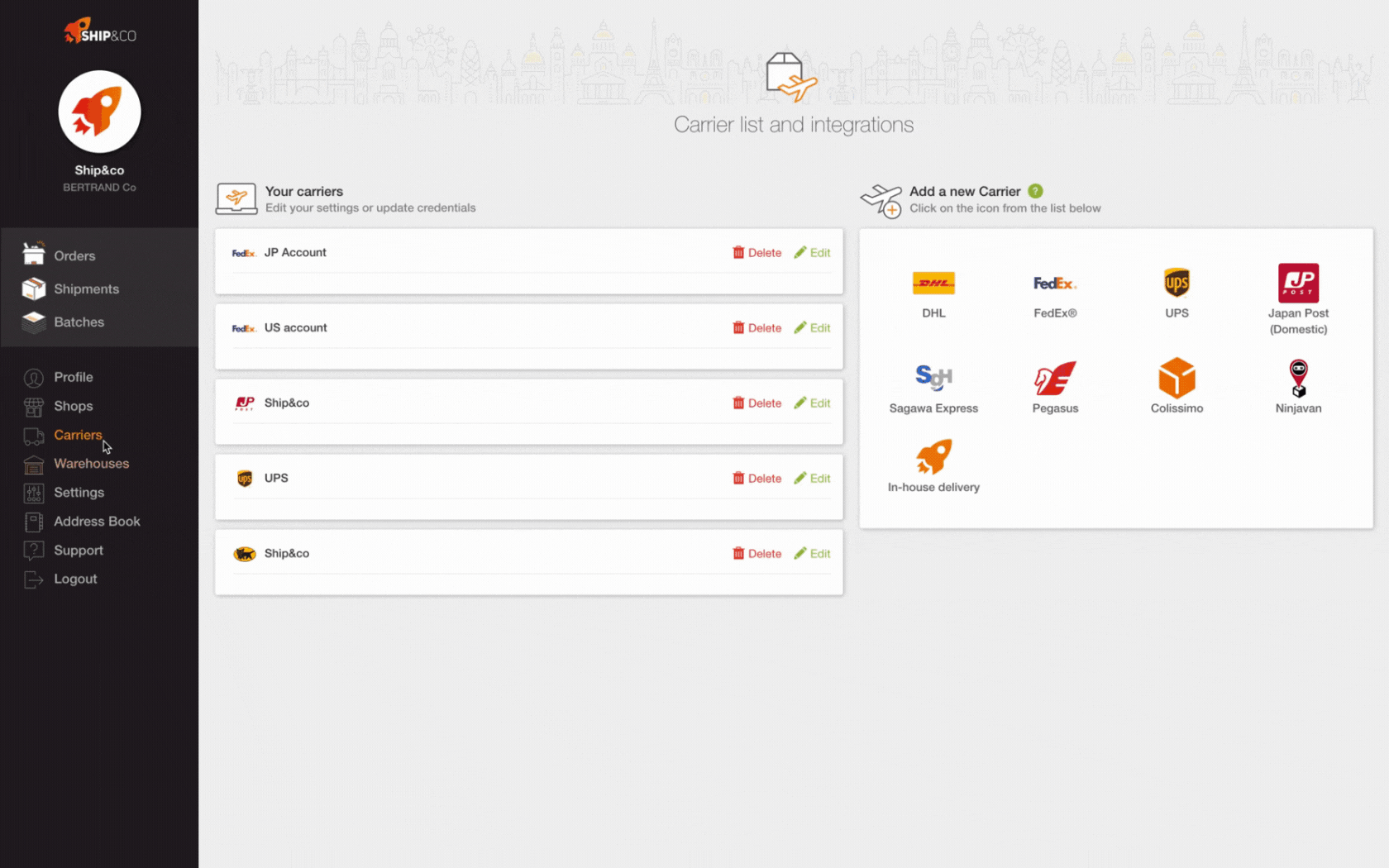 On the Carriers page, click on the DHL icon.
Input the necessary information:
Name to display for this account: Assign a name to your DHL account within Ship&co for better management. Ship&co supports shipping using multiple DHL Express accounts. If you have multiple DHL Express accounts for different regions or subsidiaries, you can set up the name for each account. If you leave this field blank, your account number will be displayed as the default name.
Your carrier credentials:


DHL Express Site ID & Password

: Add the Site ID and password obtained from DHL Express XML developer portal.


DHL Account number

: Add your DHL account number.
Print return labels:
With Ship&co, you can conveniently create return labels simultaneously with DHL export labels, subject to support availability in your country. To create a return label, simply tick on Print Return Labels and enter the 9-digit DHL import account number you have in the DHL settings window.
Please note the following details:
・The DHL Import Account Number usually starts with the digit "9."
・The DHL Return Label remains valid for 90 days from the date of issue.
・Do not attach the DHL return label to the parcel, instead pack it along with the contents.
DHL Registration Contact:
The contact information you entered in Ship&co Profile

page will be displayed. If this information differs from the one in your DHL contract, please update it accordingly. To save your changes, be sure to click the

Save button located in the upper right corner.
Label Settings:

Tick

Hide account number on label option if you want to exclude your DHL account number from appearing on the shipping label.
DHL Package Types:

Select any DHL packing materials you may use from the list provided.

These options will be displayed in the "Parcels" section as packaging choices on the order page.
DHL Print Settings: Choose the printer and paper size that will be used for printing DHL shipping labels. You can select from laser/inkjet or thermal printer options.
・

For laser/inkjet printers

: PDF - Standard A4 (to be printed on A4 plain paper)
・

For thermal printers

: PDF - 4x6 inches or 4x8 inches, ZPL - 4x6 inches or 4x8 inches
*Note: To set up the thermal printer ZPL type, a separate tool needs to be installed. Refer to the details provided here.

Once you have made all the necessary selections, click Save.