Once you've familiarized yourself with creating your first shipment, it's time to look at some tips to help you save (even) more time! Here are 5 tips.
Tip 1: Batch shipments
For some shipping carriers (Ninja Van, JP Post, Sagawa, and more to come!) you have the option of creating multiple shipments at once, instead of processing individually.
To create batch shipments, go to "orders" tab. Next to each order, you'll see a tick box.
Tick all the shipments you want to ship in a batch. If you want to select all, click the topmost tick box. Please note that the shipping method for a single batch of shipments will need to be the same.
Once you've ticked the shipments, you'll see the orders displayed together. From the drop down, choose your shipping method, and click "Create batch shipments".
Once successfully created, go to "Batches" tab, where you'll find all the shipping labels for your batch of shipments in a single pdf for you to easily print.
Tip 2: Auto-fulfilment
Ship&co helps you save time by managing auto-fulfilment for you. This means that once a shipment is created, Ship&co can 1) mark the order as 'fulfilled' on your shop, and 2) send the tracking details back to your shop for the order - so you won't have to spend time going back to your shop to manually fulfil.
There are 2 timings where Ship&co can carry out the auto-fulfilment.
Firstly, the moment when shipping label is created. To choose this timing of auto-fulfilment, simply go to "Shops", select "edit" for your respective store, and under "Sync settings", tick "Automatically fulfill the order..."
Alternatively, the auto-fulfilment can take place whenever you choose to (e.g., after packing). In this case, do not tick the option on sync settings. Instead, after your shipping label has been created, go to "Shipments" tab where you will see a list of your shipments created. Next to each shipment, there is a fulfil button.
When you click the button, Ship&co will be auto-fulfilling the order. Please note that if the button cannot be clicked, it means that the shipment is already fulfilled on your shop.
Tip 3: Label settings
With Ship&co, you can choose your printer option and paper size. This comes in handy especially if you have a thermal printer, as using a thermal printer can help you save time with your labels (as these come in a 'sticker-format').
To set your printing option, simply go to "Carriers", and "Edit" the carrier of your choice. Under "Print settings", select the label type and paper size. 4x6 is a good option for thermal printing. You can also choose to print in A4 - the option for paper size will simply impact the layout.
Tip 4: Shopify payment options
For Shopify only, Ship&co is able to sync in the payment status of your orders. This means that in just a single interface on your "orders" list, you can check what your order payment status is, to fulfil the fully paid orders, and follow up with the rest of the orders not fully paid.

To sync in all your orders from Shopify regardless of the payment status, go to "Shops", and "edit" your Shopify shop. Under Sync settings, make sure to tick the option of "Fetch authorized and pending/partially paid orders".
Tip 5: Preset package and product types
For international orders, shipping carriers require you to send package details (dimensions and weight) as well as item details (HS classification and order value) for custom purposes.
As such, at Ship&co, we require these details for international shipments to be created. But you can save time by saving package and product types that you typically use often, so that the required fields can be auto-populated instead of being typed manually each time.
To preset commonly used packages, go to "Settings" and "Package presets" and add a new package.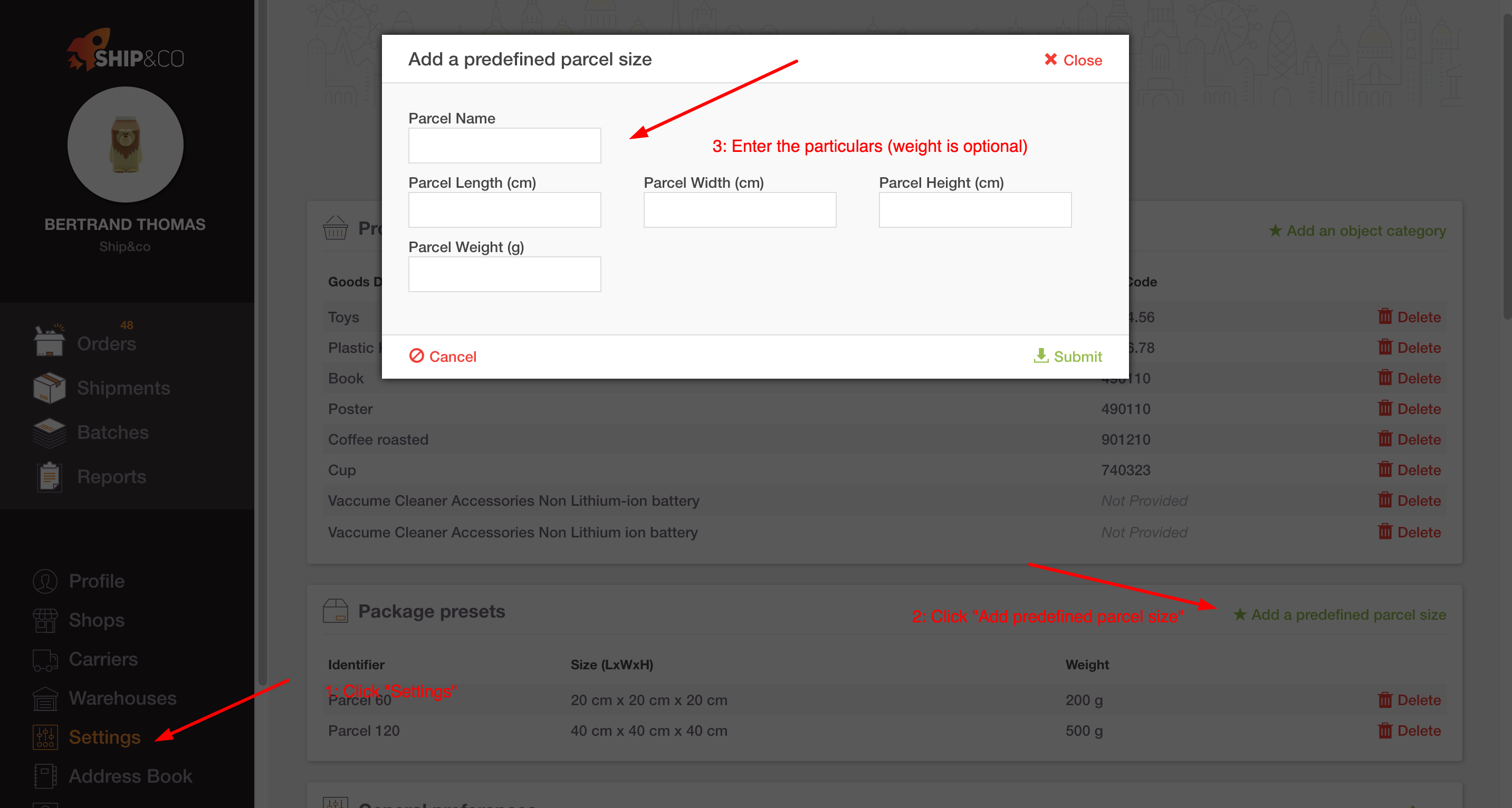 To save commonly-used packages from shipping providers, you can also go to "Carriers", "Edit" your chosen carrier, and add any package types, like in the example of DHL below.
To preset commonly used product types, go to "Settings" and "Product types". Delete any default product type that's not applicable, and add new product types that are relevant.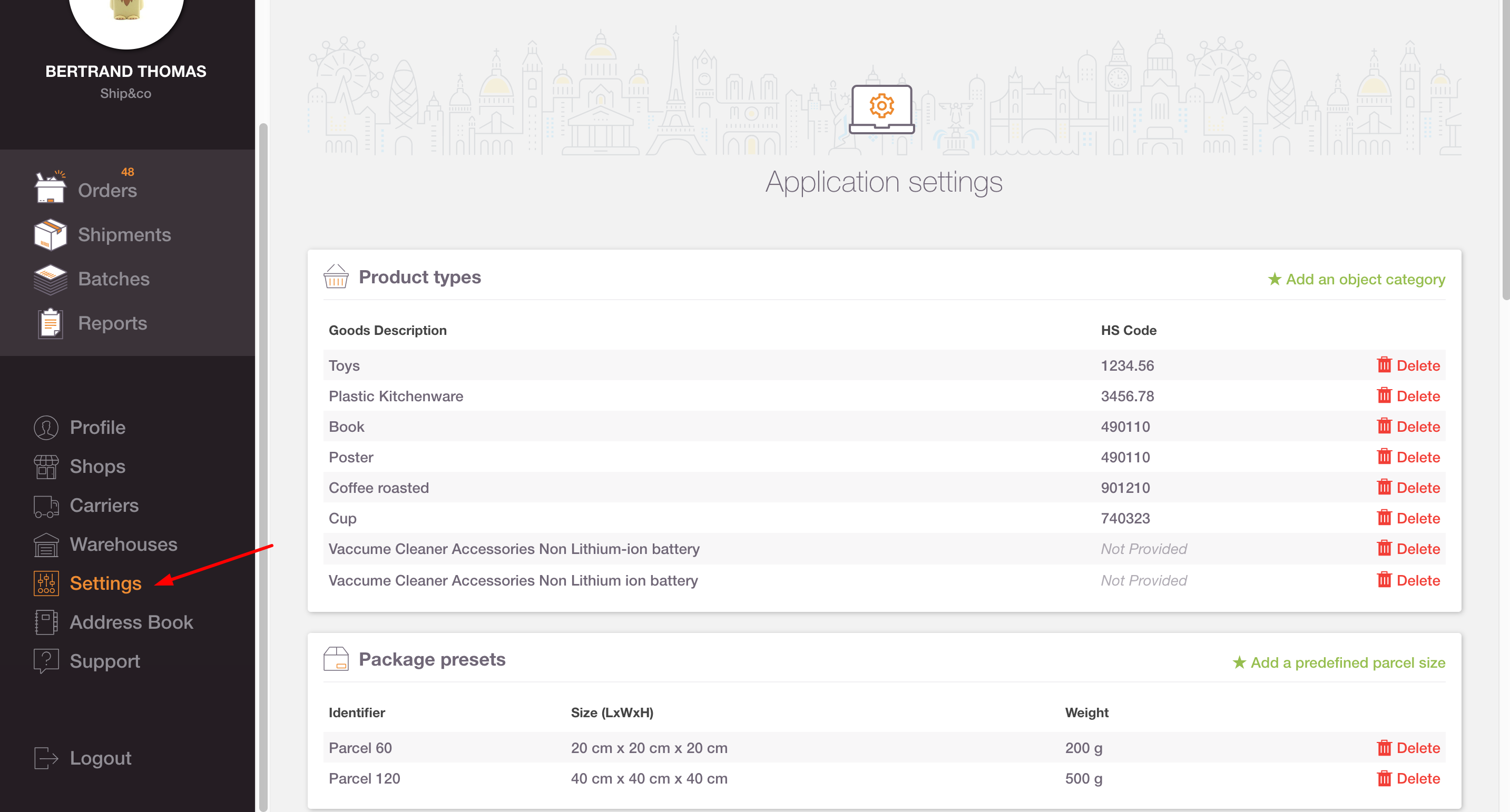 You will then see that in your order page, the items' product type drop-down list will change accordingly.