If you want to re-add your shop, please follow the steps below to delete the store first, then re-add it.

Please note:
For those who manage multiple stores on the same EC site/platform with Ship&co, please log out from the seller site of all the EC stores once, before following the steps below.
Depending on the store, unshipped orders that were created more than a month ago may not be re-synced to the "Orders" page by doing the steps below.
1. Please go to the "Shops" page and under "Your shops", click "Delete" for your store
(In order to proceed this smoothly, we recommend that you first click "Edit" and check/take notes of your current settings.)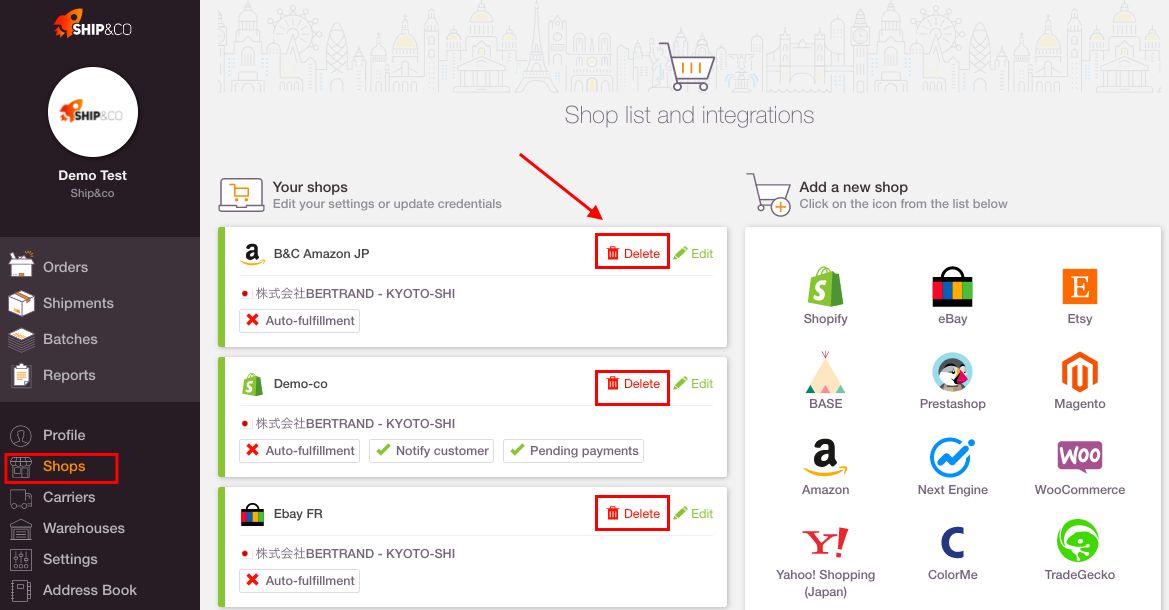 2. On the same page under "Add a new shop", click your store icon and input all the necessary information then click "Save".

After this, depending on the EC store, the application installation screen or the login screen to the store site will be displayed. Please follow the on-screen instructions to complete the process.
Your order data gets removed from the "Orders" page once, but will start synchronizing again shortly. (Depending on the store, this re-synchronization may take up to 30 minutes.)
* The data in the "Shipments" page will not be removed by re-adding your store.
If you would like to see the details for shop settings, please check this page.