In order to create Sagawa Express shipping labels, please follow the procedure below.
1. From the "Parcels" option in the order page, select Sagawa Express.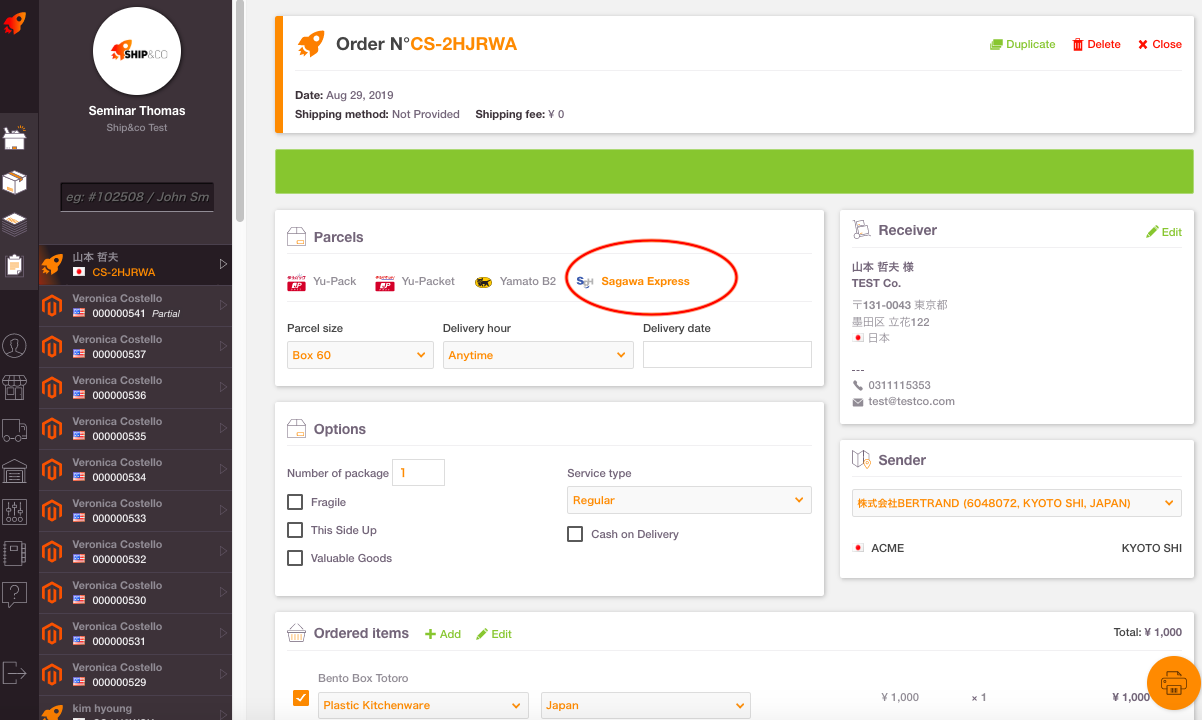 2. Select the Parcel size; select from Box 60, 80, 100, 140, and 160.

* Inputting the weight is unnecessary.
3. Select the desired delivery date and time. If you would like to select the fastest option, please do not specify a desired delivery date or time.
4. In "Options", please input the number of packages you are going to ship. The default number is set 1. (You are able to create multiple package labels for Sagawa with Ship&co.)
5. In "Options", tick the necessary request(s). There are three options: "Fragile", "This Side Up", and "Valuable Goods".
6. Select a service type. There are four options: "Regular (land)", "By plane (air), "Parcel chilled (refrigerated)", and "Parcel frozen".
7. If you wish to choose "cash on delivery (代金引換)", place tick "Cash on Delivery".
You need to have a cash on delivery service agreement in advance with Sagawa in order to choose this option. If you added cash on delivery service in your agreement after you had started using Ship&co, please contact our customer support.

Depending on the shop you use, information about the cash on delivery handling fee may not be synchronized.

In that case, please add the fee manually clicking the "+ add" button in "Ordered Items".
Item name sample: cash on delivery handling fee 324 JPY
8. Click the print button at the bottom right of the page.
With above, shipping labels for Sagawa Express can be created.
After the shipping label has been created, please print it on A5 size Sagawa Express exclusive paper if you use a laser or Inkjet printer. If you use a thermal printer, please use Sagawa Express exclusive adhesive paper. Then stick it on the parcel to ship out.
Please refer to this page for Sagawa paper types and print settings.