The delivery signature option is an additional paid service provided by each shipping company, where you can request a signature of receipt from the consignee at the time of delivery.
If you wish to add a delivery signature option for DHL, UPS and FedEx, please see the following details. Shipping carriers will charge an additional fee for this optional service.
You can either add this option manually each time on the Order page, or set to have this ticked by default on the Settings page.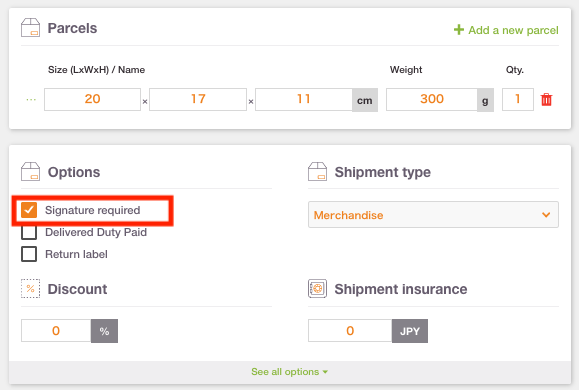 DHL- international shipments shipped from Japan to overseas by DHL always require a standard signature upon delivery. Signature required unticked means this standard service is included.

For shipments from countries other than Japan, the signature option is always a paid service upon your request.
UPS- there is a signature option for shipments destined for the USA and Canada only. When requiring a delivery signature option, please make sure that the Signature required is ticked.
FedEx- Ship&co support Indirect, Direct and Adult Signature requested option for FedEx.
When signature required is selected in the order page, the system will use the Signature option choosen in the FedEx window settings. Please see this article for details about FedEx Delivery Signature options.