In this article, let's take a look at what each of the "General preferences" settings mean and how you can set them to your preference.

Ask for a signature on delivery by default (UPS, DHL, FedEx)
This setting refers to the shipping option of requiring the recipient to leave a signature upon receipt of the parcel. This pertains only to international shipping.
You can set the default signature option for your shipments (i.e. whether you would like to request recipient's signature or not). You can of course also adjust for individual orders, but setting this by default will help save time if you are keen on getting a signature upon delivery always.
ON means signature is requested by default
OFF means signature is not requested by default
This setting will be reflected in the "Signature required" in the Options section, on each order page.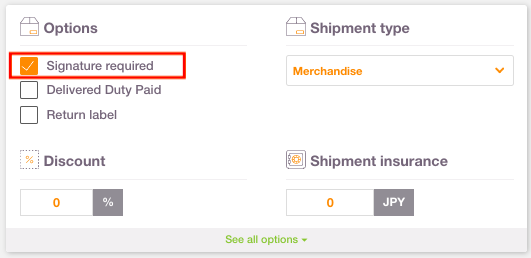 Weight unit
You will be required to input the parcel weight for international shipments. You can choose to input the weight in either grams (g), kilograms (kg), ounces (oz), or pounds (lbs).
This setting will be reflected in the "Parcels", on each order page.

Default discount rate
For international orders, you can pre-set discount rate of the declared parcel value. You can set the discount rate for individual shipments, but setting a default discount rate can help you save time if your discount to be applied is consistent across shipments.
This setting will be reflected in the "Discount" as well as the "Ordered items", on each order page.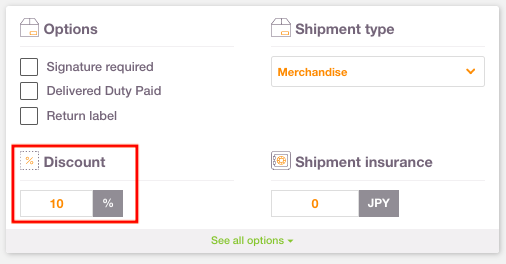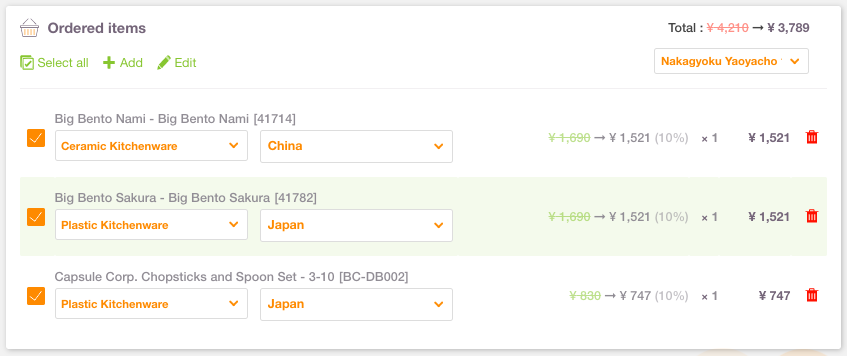 Default type of content
For international orders, you are required to set a type of content for your shipment.
This setting will be reflected in the "Shipment type", on each order page. You can choose a different type always on the order page, but the one you have set as default will be automatically chosen at first.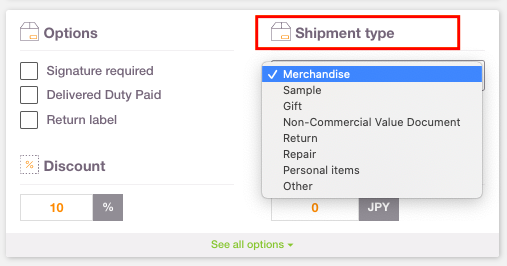 Language
Your display language for Ship&co can be changed. The options are Japanese, English, French, and Chinese (Traditional, or Simplified).
CSV file encoding
You can open CVS files in Excel, or other software. This is useful when you try to export a list on the "Shipments" page, where you can export details of the shipments you have created, by searching or filtering orders.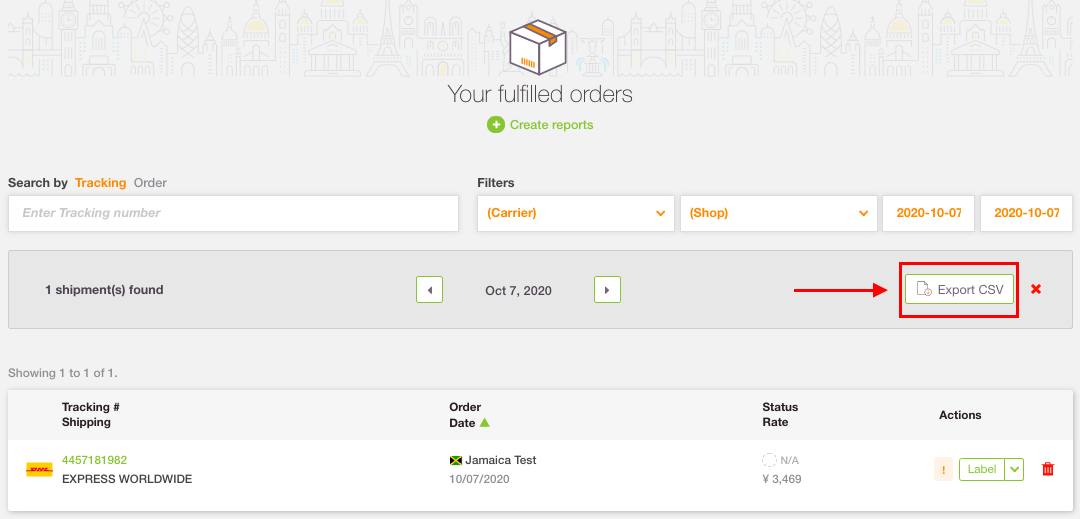 Receive emails from Ship&co
If you would like to receive emails from Ship&co based on your usage, please tick it.
Use Bedal scanner
If you are using the volumetric weight measurement scanner "Bedal" that can automatically input the size and weight of the parcel to Ship&co, please tick here.