It is possible to issue shipping labels without having a post-payment agreement with Japan Post.
To set up, in the Ship&co dashboard menu, click on 'Carriers', and on the right side of the page under 'Add a new Carrier', click on the Japan Post International icon.
If you do not have a Yubin Biz Card: Select "Regular account". With this style, you will pay the shipping fees at the time of shipping each time.
If you have a Yubin Biz Card: Select "Japan Post Biz' Card account" and enter your 32-digit Biz Card number. This option is for customers who pay the shipping fees later (once a month) by bank transfer.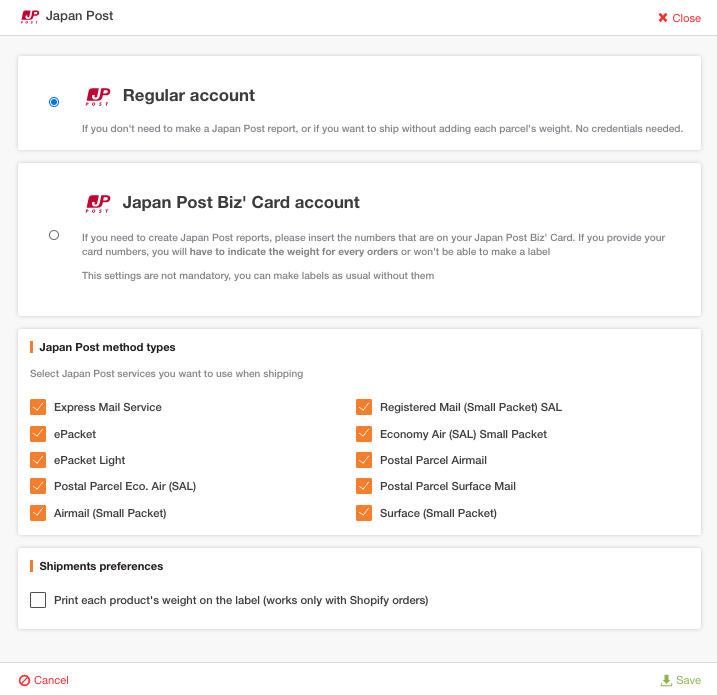 Japan Post method types:
If you select the delivery services for which you plan to create shipping labels on Ship&co in advance, they will be displayed as delivery options when you create a label.
Shipments preferences:
If you are a Shopify customer and you have not set a weight for each item in Shopify (= weight: 0), please uncheck it. Otherwise, an error will occur because a valid value is not reflected in the weight item for each product when creating a JP Post international label.
Postponement delivery slip for JapanPost
If you would like to print out the "postponement delivery slip (後納郵便物等差出票 / deferred payment)", you need to input your Yubin Biz Card number on the page above before creating Japan Post shipping labels. You need add weight to create your shipments so you can then get the postponement delivery report.