Getting set-up on Ship&co just takes a few minutes! Watch this video or follow the step-by step guide below.
Step 4: Add your online shop
Click the icon of your online shop to add your shop.

For the selected shop, input your shop details (e.g., shop URL).
Please note that you will need to have created an account with the online shop first. If you do not have a shop, or your shop is not displayed here, you may skip this step, and later on import your orders into Ship&co with a CSV file. Please see this page for more details on the CSV import feature.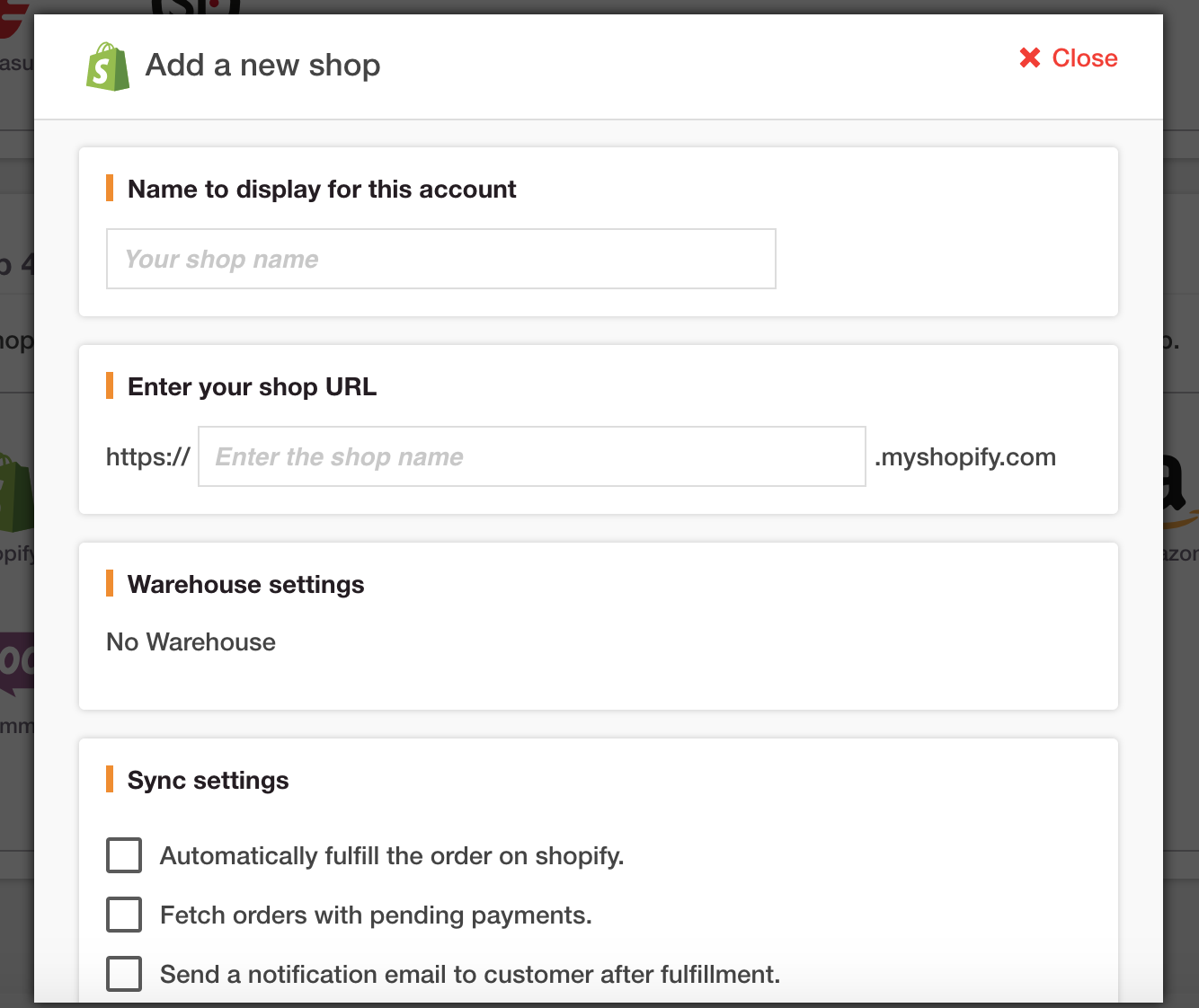 You will also see at the bottom "sync settings".
The sync setting that mentions "automatically fulfil the order..." means that at the time of the shipping label creation, you would like Ship&co to do auto-fulfilment. Auto-fulfilment involves 2 things - 1) Ship&co automatically marks the order on your shop as "fulfilled", and 2) sends the tracking number to your shop so that you can send out an automated email to your customers notifying them of the shipment, along with the tracking number (pls note that you will need to set such an email up yourself from your shop). If you would like Ship&co to carry out auto-fulfilment for your order at the time of shipping label creation, tick the box. If you would like Ship&co to do auto-fulfilment at a later timing (after you actually ship out, for example), or would rather not have auto-fulfilment at all, do not tick the box. Please also see this page for fulfilling your orders.


For Shopify only, you will see 2 additional sync setting option. "Send a notification email to customer after fulfilment" means that at the time of your shipping label creation, you would like Shopify to send an email to your customer that the order has been dispatched, along with the tracking detail (related to the point above). "Fetch authoritzed and pending/partial orders" means that you would like Ship&co to fetch all your orders not just fully paid orders. In the case you tick the option, you will be able to check on your order page later, payment status (such as "pending" or "partial") in the case where the order has not been fully paid.
If you're unsure, feel free to leave the sync settings unticked for now. You can always edit your shop settings later on by going to "Shops" and "edit".
If you wish to skip the initial setup and continue later on, you can do so by scrolling to the bottom of the screen and clicking "Skip Initial Setup" in the lower right-hand corner of the screen.