See the following steps for details on how to setup Sagawa Express.
1. On the "Carriers" page, add Sagawa Express by clicking the icon. Then please enter the 11 digit account number (customer code).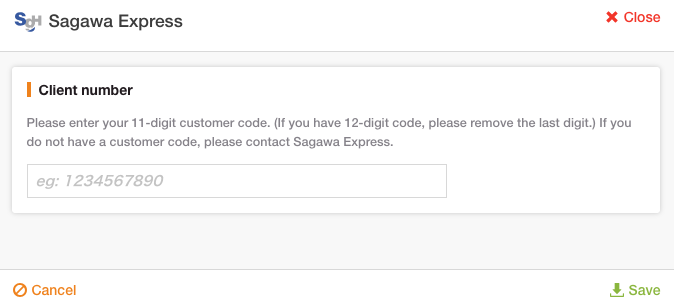 2. Then you see the following page.
Make sure that "Request access to Sagawa" is ticked. Regarding the "Contact for Sagawa registration", please see if the details match the contact details that Sagawa has/bills for the particular account number that you are using for this set-up. If necessary, please modify the contact details.
If you modify the contact details, please make sure to click "Save" at the top right in order to save the change once.
Choose the label type (L01 and L02 are thermal printer labels), Daibiki contract option, then click the "Save" button at the bottom right. You can change these settings later at any time.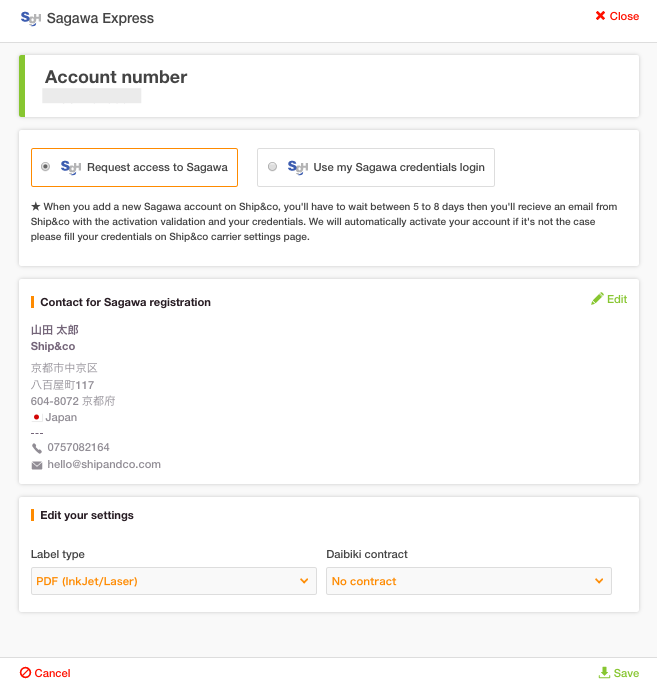 3. Your request has now been sent to Sagawa Express and the set-up status becomes pending.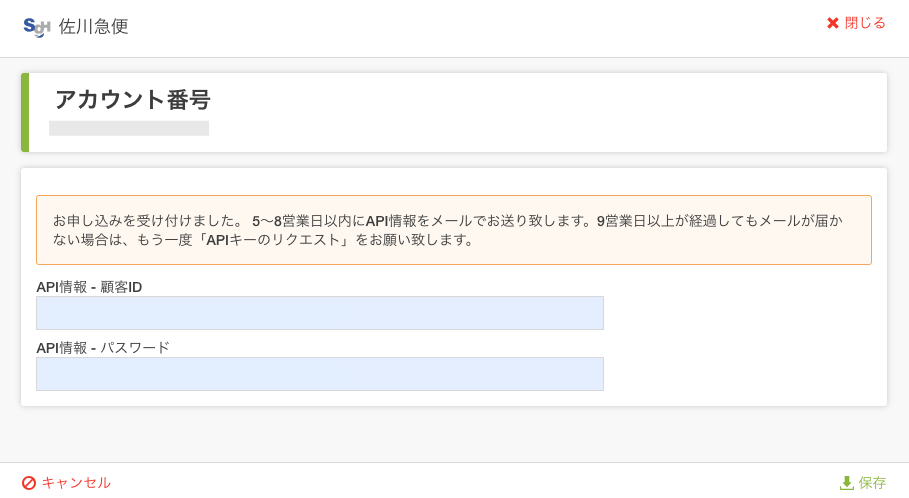 4. You should receive an email from Ship&co which contains your Sagawa API key, about 5~8 business days after your request.
If you see your API information in Ship&co's Sagawa settings page, your account is ready to issue Sagawa shipping labels. Please choose your daibiki (cash on delivery) and printer (inkjet/laser, or, thermal) settings before you start creating Sagawa labels with Ship&co.
Please note!
If the email from Ship&co indicates that you need to input your Sagawa keys:
1. Go to "Carriers" page and click "Edit" on Sagawa.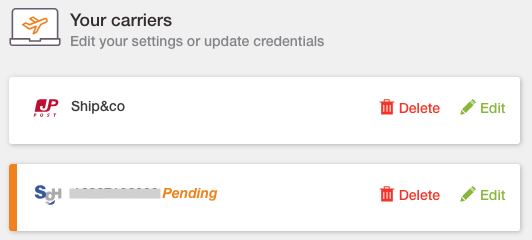 2. Choose "Use my Sagawa credentials login", carefully copy and paste the API information in the sections from the email. Select your daibiki (cash on delivery) and printer (inkjet/laser, or, thermal) settings, then click "Save."