You cannot change the contents of a shipping label once created. If you need to correct or edit the data of the issued label, you need to cancel (void) it by the following method and create a new shipping label (= obtain a new tracking number).


In order to void an issued shipping label, please follow the steps below:
1. On the left hand side menu, click "Shipments" and identify the order you would like to cancel the shipping label for, then click the trash can button on the right hand side.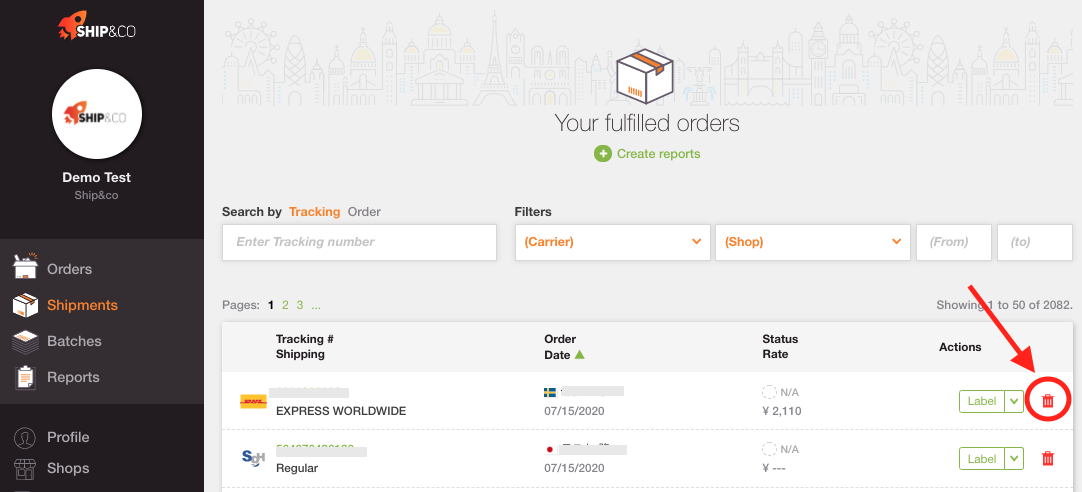 2. Carefully read "Void Label Confirmation" information, and then click the "Void" button at the bottom right.
3. The shipping label has now been cancelled.
Once the shipping label has been cancelled, the tracking number becomes invalid, and the order moves to the Ship&co's "Orders" list page.

If you have the auto-fulfillment setting, the order status of the shop page will NOT change - it will continue to display "shipping complete."
For Shopify store:
In Ship&co's store, navigate to "Shops", and click on "Shopify". Under "sync settings", if a check is placed next to "automatically fulfill the order on Shopify" and "send a notification email to customer after fulfillment" then even after the shipping label is reissued, the tracking number is automatically updated on Shopify's administration page, and the shipping completion mail is automatically sent to the customer.
For stores other than Shopify:
Regardless of the auto-fulfillment setting in the "Shops" page, the new tracking number of the reissued shipping label is not automatically updated on the shop page. Therefore, once the new shipping label has been issued, please make sure that your customer gets updated on the new tracking number.
The Ship&co fee per shipping label is charged once a shipping label is issued, irregardless if it is then subsequently deleted/cancelled as per the above process.