You can print multiple shipping labels at once in Ship&co. Choose up to 50 orders you're ready to ship with one of your carrier.
Bulk printing is currently available with these carriers:
For international shipments: JapanPost services (shipment from Japan).
For Japan domestic shipments: JapanPost (YuPack & YuPacket), Sagawa Express and Yamato (Regular, Nekopos and Ta-q-bin compact).
To create shipping labels in bulk, in the "Orders" list on your Ship&co dashboard, click the tick boxes on the left side of each orders you want to ship.


Batch Printing for Japan Domestic Shipping
Services and option vary according to carriers:
Select preferred service for Yamato Transport: Regular, Neko Pos, TA-Q-BIN Compact
Select service type for Yamato Transport, Sagawa Express, Yu-Pack: Regular, Parcel chilled, Parcel Frozen
Select delivery date & delivery time for Yamato Transport, Sagawa Express, Yu-Pack*
*The selected date & time must follow shipping requirement from the carriers to avoid the errors.
1. Select preferred carrier
2. Select delivery date & delivery time
Now, there are two options to proceed the selection.
Choose different delivery date and time for some of your orders in the order page.

Or you can select multiple order with same delivery date and time and add it in batch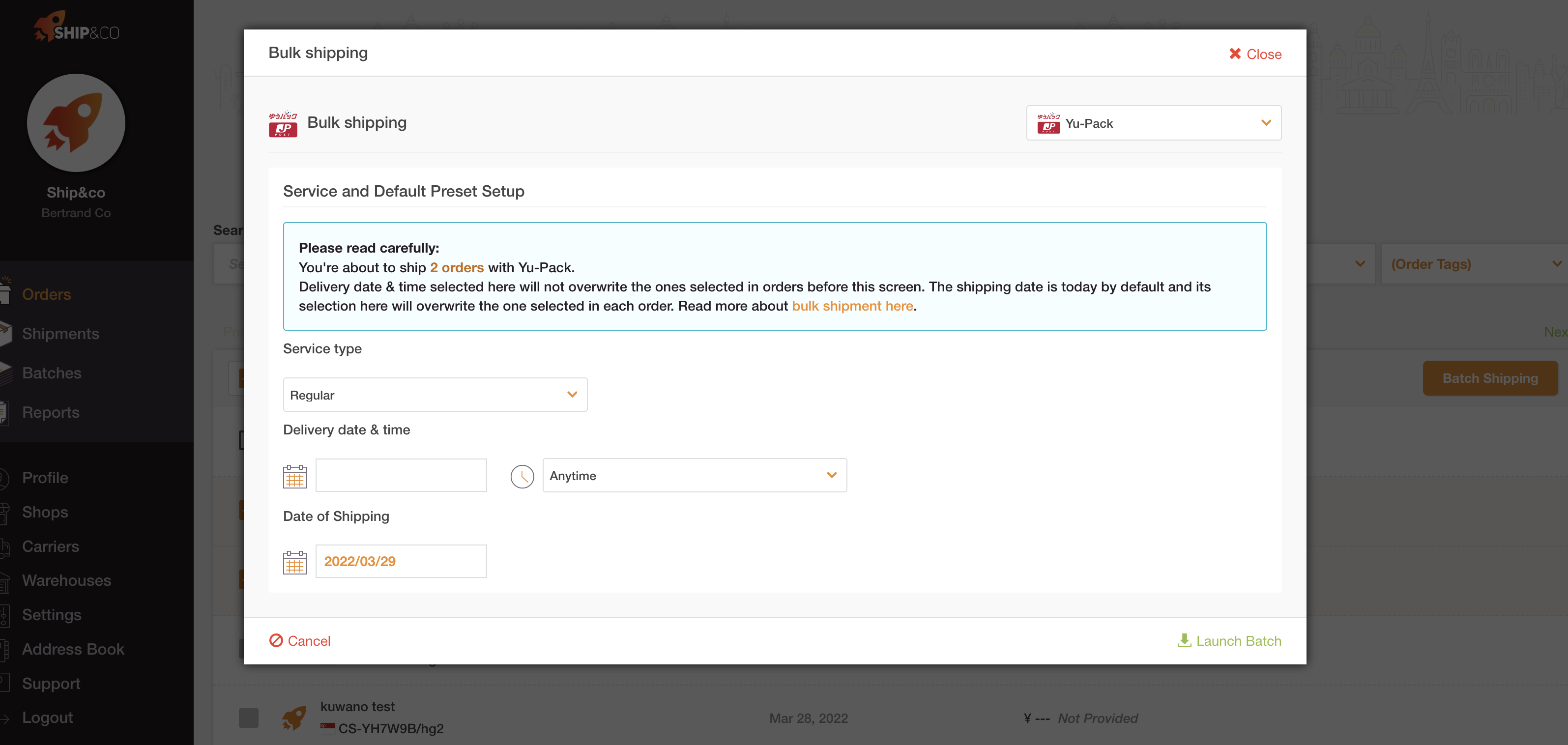 Selecting date & time of delivery in the batch setup window will be for all orders without a date and time of delivery pre-selected. This will not overwrite already selected date & time.

3. Date of Shipping.

By default, date of shipping is today's date. You can modify it for all your order here and it will overwrite the date of shipping setup in each orders. This makes it easy to prepare shipping labels in bulk to be shipped at a later date.


Batch Printing for International Shipping
Create up to 50 shipments for JapanPost International in Ship&co.
Select the orders you need to ship in the order list.

You can edit each order's weight in the orders list, prior to create the shipments in bulk.
Or you can add a default weight for all your orders in the batch settings window.

The default package weight will not overwrite the one already added prior to this window.