If you are selling domestically or internationally on Shopify, Ship&co is a multi-carrier Shopify shipping app that helps you ship your orders faster directly from Ship&co's dashboard.
Ship&co is compatible with Shopify stores on any plan from Basic, Standard, Premium to Shopify Plus and you can test your shipping process using Ship&co for your Shopify development stores.
Connect Shopify to Ship&co
You can either add Ship&co app from Shopify app store or add your Shopify stores on Ship&co Shops Page. In this guide, we will walk you through a step to add your Shopify store from Ship&co dashboard.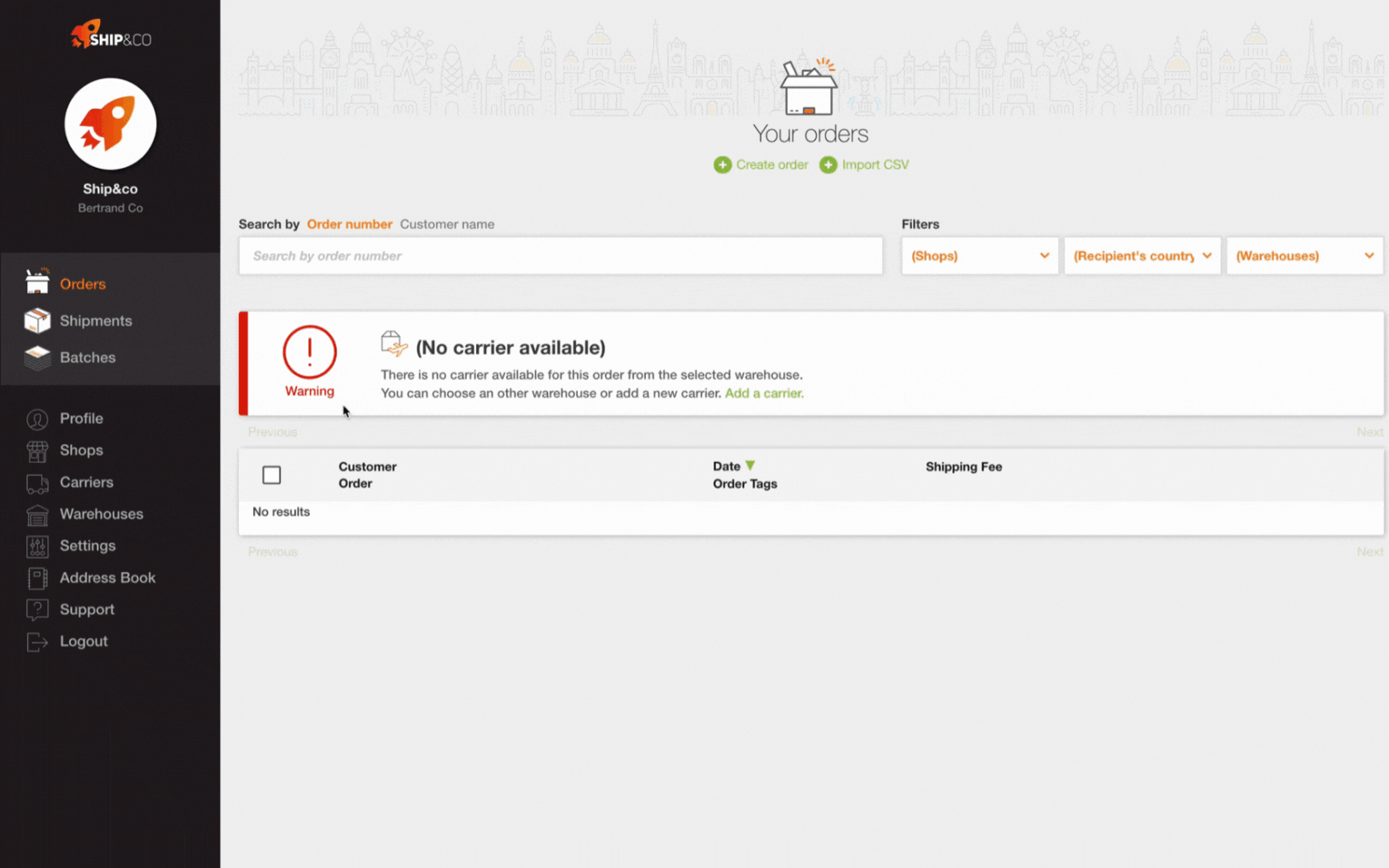 On the Shops page, click on the Shopify icon.
In put the necessary information:
Name to display for this account: Please name your Shopify store. You can add multiple Shopify stores in your Ship&co account, and you will be able to filter orders by Shopify store name.
Enter your shop URL: Please input the URL of your Shopify Store (the part between "https://" and ".myshopify.com"). Even though you are using an original domain for your store, please input a URL which ends with .myshopify.com here.
Note: From September 2022, Shopify admin is moving to a new domain which is https:// admin.shopify.com/store/

storurl

. Please input only the

storeurl

part when setting up in Ship&co.
Warehouse settings: If you have multiple shippers (warehouses) information in Ship&co, please select the default address to ship your Shopify orders
Sync settings:


Automatically fulfill the order on Shopify

:
Enabling this setting will update the order status in Shopify admin as "Fulfilled" and synchronize the tracking number back to Shopify store at the time of shipping label creation in Ship&co. You also have an option of fulfilling the order from Ship&co at any time after shipping label creation. Please refer to this page for more information about the settings.
In addition, when necessary, it is also possible to ship items separately in Ship&co. When you are shipping items separately, your Shopify order will be marked as Partially Fulfilled on the order page in Shopify.


Fetch authorized and pending/partially paid orders (orders with incomplete payments)

:
If these orders get synchronized in Ship&co, you will see a corresponding small icon for each order.


Send a notification email to customer after fulfillment

:
At the same time as the label is issued in Ship&co, or when you click "Fulfill" on the Shipments page, you can automatically send an email to the registered email address notifying the customer of the completion of shipment.
After completing the aforementioned sections, click the "Save" button. Then, enter your Shopify account and click Install app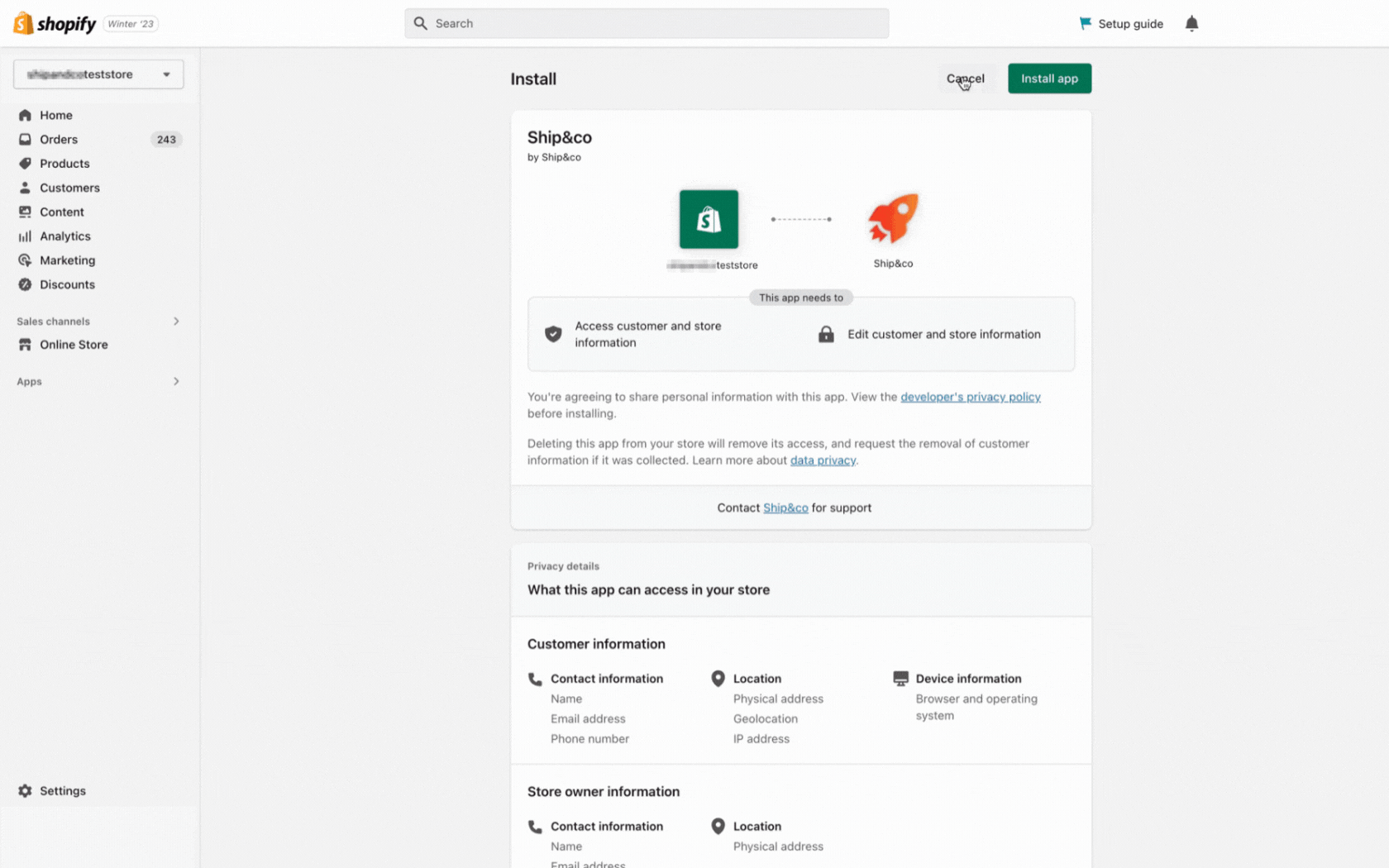 After the connection is completed, the order information is then synchronized to the Orders list. Please note that Shopify will only send unfulfilled orders created within the last 60 days. If you need to ship older orders that Ship&co does not import, please consider using the CSV order import feature.
Note: Ship&co supports multiple Shopify stores per one Ship&co account. If you are Shopify merchants selling your products on several Shopify stores, you can follow the same steps to add your Shopify stores and manage all your shipments from a single dashboard.