Details of each setting are as follows.


"Settings" screen: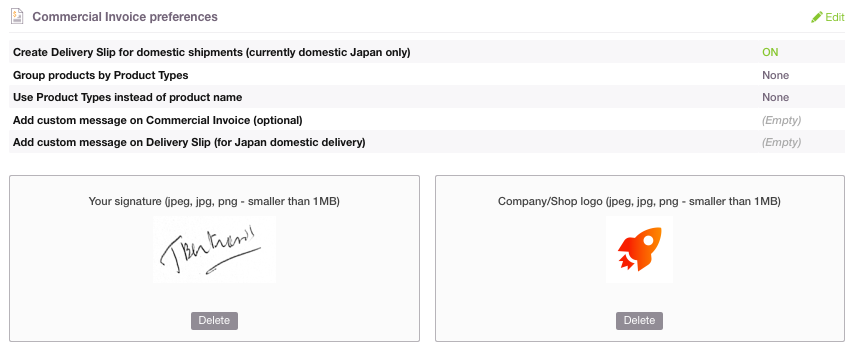 <Commercial Invoice preferences>
You can choose to display the category name saved in "Settings" → "Product Types", on the shipping label as well as invoice
・Group products by Product Types
For each product type, the quantity is set to 1. Therefore, the total price per product type is displayed in the content list.
(Example)
Plastic kitchenware 1 $100.00
Wooden Kitchenware 1 $50.00 
・Use Product Types instead of product name
Each product type for each item will be displayed per line as follows.
(Example)
Plastic kitchenware 1 $50.00
Plastic kitchenware 1 $50.00
Wooden Kitchenware 2 $50.00
* If multiple product types are registered, the top of the Product Type list will be given priority.
* You can select the product types from the pull-down menu before making a shipping label.

*Important Points: When making a shipment via Japan Post International, if the product name is too long (especially for product name from eBay store), the product name error occurs. Therefore, to avoid that error, Ship&co system will automatically use the Product type (Category name) instead of product name to show in the label.
In Ship&co, several default "Product Types" can be registered in the Product Type lists and the registered information can simply be edited. Please check out this link for more information.
<Custom messages>
You can add a customized message on the commercial invoice (overseas shipment) . The customized message will be inserted in the center of the document (above the product name field).
・Add custom message on Commercial Invoice (optional)
Default: blank.
The message registered here will also be reflected in the electronic invoice when using DHL PLT / FedEx ETD / UPS EDI. The section where the message appears will be the "Other Remarks" column for DHL PLT invoices, and the "Declaration Statement" column for FedEx ETD / UPS EDI invoices.
<Signature image and Company/Shop logo image>
(Customers using FedEx need to separately register their letterhead and signature image on the FedEx settings page of the "Carriers" page. Click here for the details.)
・Your signature image: Shipper's electronic signature image. If you upload a signature image here in advance, it will be displayed automatically at the bottom left on the invoice. Also, for some overseas shipments, the image will be reflected in the electronic customs documents (electronic invoice) at the time of paperless shipment.
・Your Company/Shop logo: If you upload a logo image here in advance, it will be displayed automatically at the top of the invoice.

* Available image files: JPEG, JPG, PNG
* Each image file should be smaller than 1MB.
- - - - - - - - - - - - - - - - - - - - - - - - - - - - - - - - - - - - - - - - - - - - - - - - - - - - - - - - - - - -
Sample invoice (Ship&co's template):