In the Ship&co dashboard menu, click on 'Carriers', and on the right side of the page under 'Add a new Carrier', click on the DHL icon.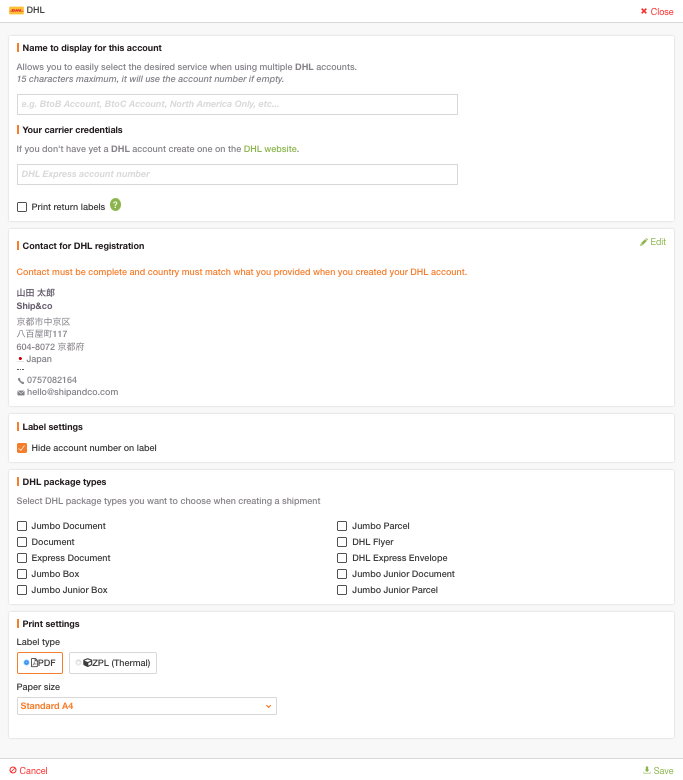 Name to display this account
You can register multiple DHL accounts in Ship&co. In order to manage these accounts in Ship&co, each account can be given a name. If left blank, the account number will automatically be inputted.

Your carrier credentials
Please input your 9 digit DHL account number. For customers who do not have a DHL account, please create one here.

Please note: In order to successfully register your DHL account number, you must already have registered at least one shipper's information in Ship&co. If you have not yet done so, please click here to register shipper information.
Print return labels
You can create return labels at the same time as creating DHL export labels in Ship&co (please note beforehand that some countries are not compatible). If you wish to create a return labels in Ship&co, click 'Print return labels', and enter your 9 digit DHL account number along with your 9 digit import account number.
DHL import account numbers start with the number '9', and are 9 digits long.

DHL return labels expire 90 days after issue.

Do not attach return labels to the package; pack it together with the package contents.
Shipping Label Settings
If you wish to print an extra Archive doc (Waybill doc) each time for your record, please check this 'Add an extra Archive Doc page to the label'. Hand one Archive doc to DHL when shipping, and keep the other one for your own records.
DHL Packing Materials
Please select any DHL packing materials you might use in the list. They will be displayed in the 'Parcels' as the packaging options on the 'Orders' page.
Printing Settings
Choose the printer type you will use for printing DHL shipping labels. You can choose from laser/inkjet, or thermal printers.
To set up thermal printers, click here.
Once you click the 'Submit' button in the bottom right, the settings are saved.