From the Ship&co Dashboard Menu on the left-hand side, click 'Carriers'. Under 'Add a New Carrier', select FedEx.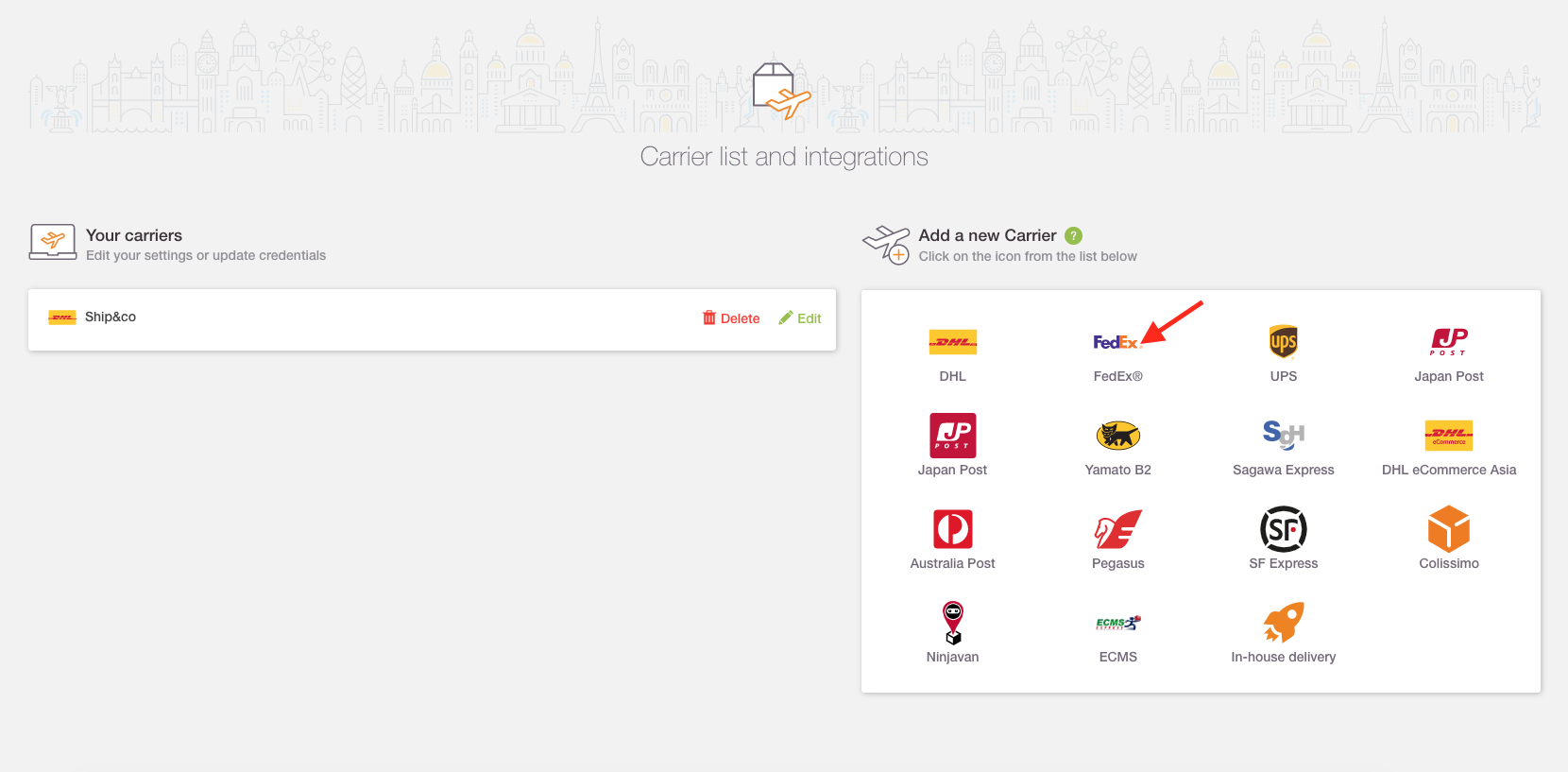 Name to display for this account
You can give your FedEx account a name to be used within Ship&co for management purposes. This is useful if you want to add more than one FedEx account to Ship&co. If you leave this field blank, your account number will automatically be reflected.
Enter your carrier account number
Please input your 9-digit FedEx account number. Your 9-digit Meter Number will then automatically be inputted. If you do not have an account with FedEx yet, please check the FedEx website.
Contact for FedEx Registration
The contact information that you have registered in Ship&co's "Profile" section is automatically displayed. If this information is different from the information registered in your FedEx account upon registration, please edit it to make both sets of information the same, and make sure to save the change by clicking the "Save" button at the top right of the section.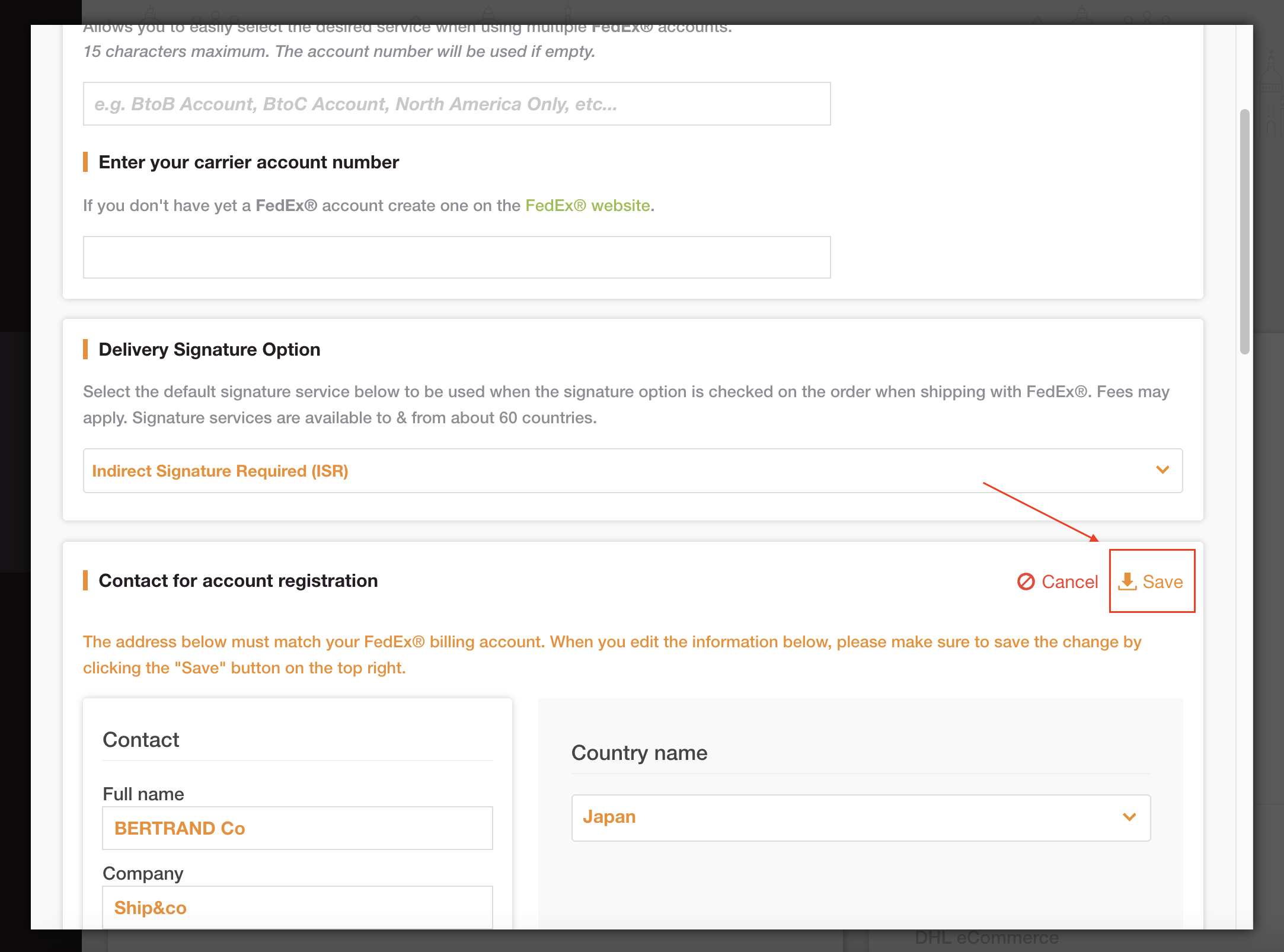 FedEx Package Types settings in Ship&co:

Select the exclusive package types that you plan to use when shipping with FedEx. These package types will then be shown as a choice of packaging materials in 'Parcels' on the order display page.

FedEx Delivery Signature Options:
Choose the type of signature you want to require for delivery. The signature method selected here will be set as the default when you check the Signature option on the Orders page in Ship&co.
Indirect Signature Required (ISR)
Direct Signature Required (DSR)
Adult Signature Required (ASR)
Learn more about each FedEx's signature option from this support page or see the FedEx information page.
Print Settings
For when printing FedEx shipping labels, please choose the paper type based on the printer you use. You can choose from InkJet/Laser printers (compatible with PDF shipping labels), or Thermal printers (the corresponding FedEx Exclusive Thermal Paper is provided free of charge by FedEx).
InkJet/Laser Printer:
- PDF - Standard A4
Please print using blank A4 paper. As for the exclusive FedEx pouches, please contact your FedEx Representative or FedEx Driver.


Thermal Printer:
- PDF - 4x6 inches or 4x8 inches or 4x9 inches
- ZPL - 4x6 inches or 4x8 inches
These types can only be used with FedEx Exclusive Thermal Paper. To obtain this paper free of charge, please contact your FedEx Representative or FedEx Driver.
To see the detailed information on how to set up your thermal printer for the ZPL file type, please see here.
For Thermal Printer, PDF types are easier to set up than ZPL types!

Letterhead and Signature Image
Please see here for the details.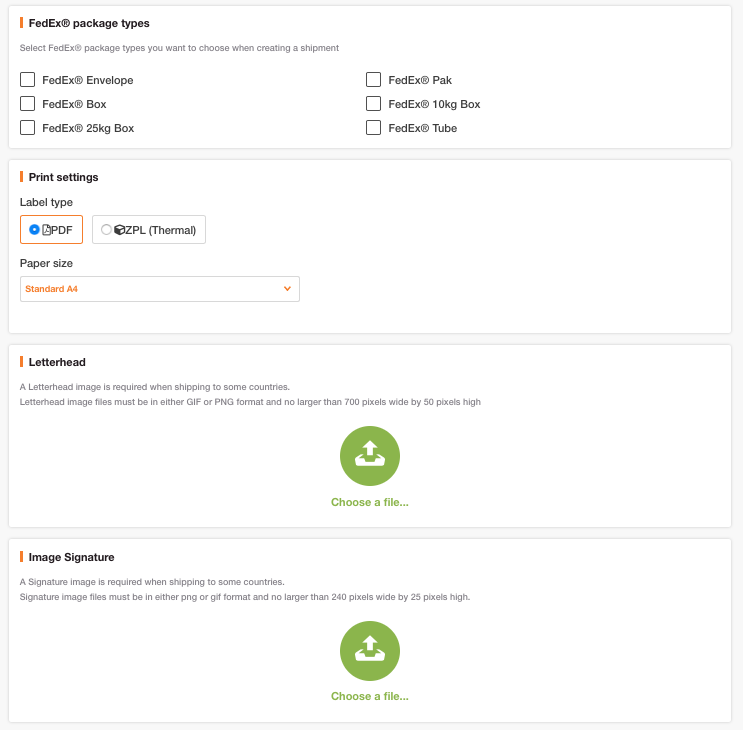 Once you have inputted all the details, please click 'Save' on the bottom right. You have now finished setting up your FedEx account!



<Important Points>
If the 'incorrect account number' error message is displayed, please see if the followings apply to your case.
1. Please login to FedEx and check the address registered when you contracted with FedEx.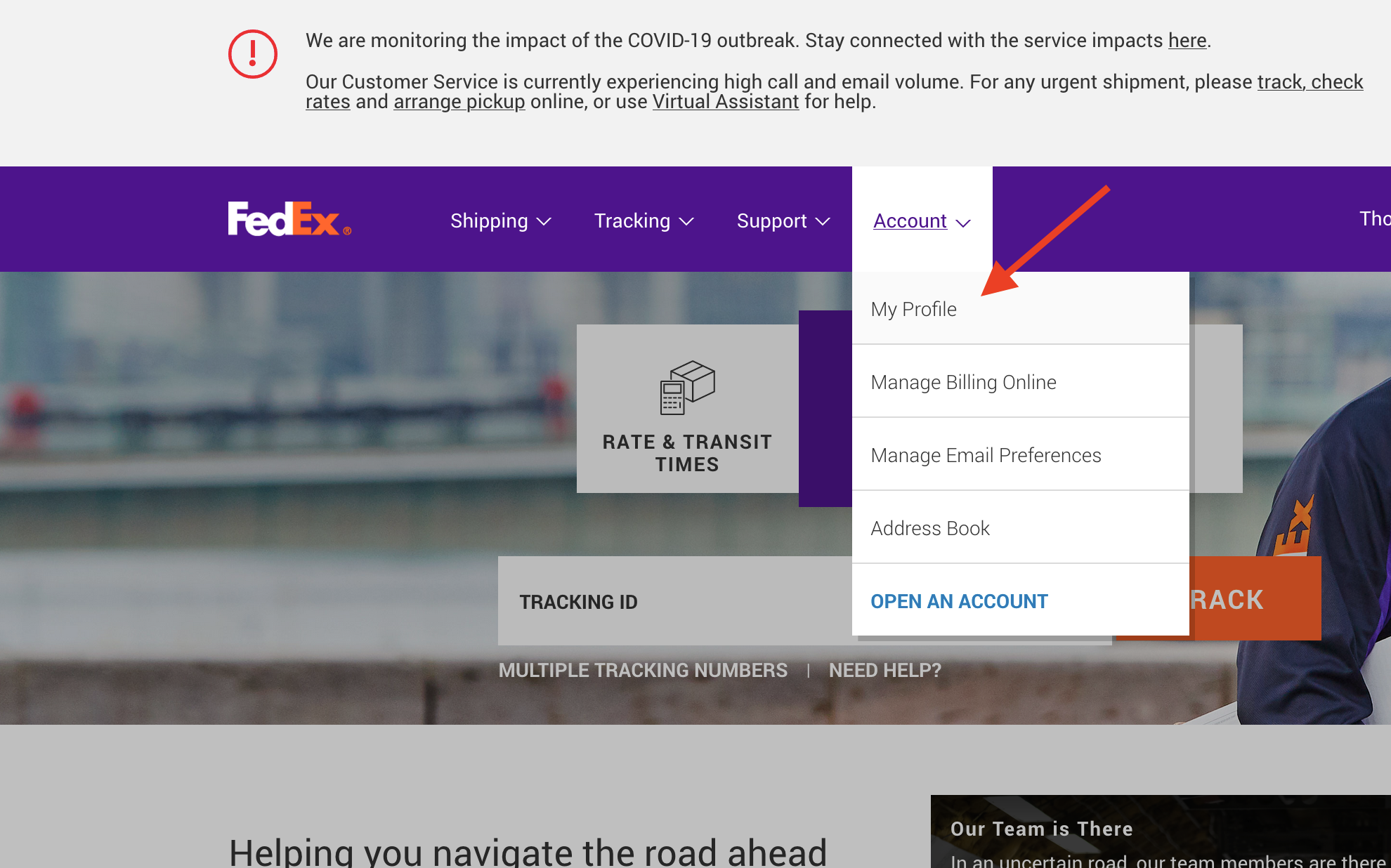 If this address is different from the 'Contact for FedEx Registration' information displayed in Ship&co, please edit it to make both sets of information the same and save the contact information.

If the address is the same, please check whether there are any irregular fonts, full-width/half-width difference, spaces, or other input errors.
2. If you recently registered with FedEx: it may take several days for FedEx to complete the rate and payment settings set up, so please wait for few days until the process is completed.